About Us
In the 1970's, Ben Walker (co-founder) owned a retail nursery called Bennett Landscape Nursery, but was dissatisfied with the quality of trees he was purchasing. The field-grown B&B trees were slow to establish and problems from root deformed trees were showing up in customers landscapes, such as blow over and declining health. In addressing the problem, he developed an inground growing system called a Tree Sox. The Tree Sox helped to develop fibrous roots and made transplanting trees more successful, but they were sometimes difficult to remove and had other challenges.While continuing his pursuit of growing trees with the healthiest roots he became acquainted with a company in Scotland that was selling a growing container called an Air-Pot™. The patented design of this container guided the growing roots towards holes in the sides of the pot. The air naturally dehydrated the roots tip forcing development of new roots. This technology is called air-pruning and results in healthier and stronger roots organically. After testing the product himself, he became a distributor and started importing Air-Pots™ and introducing them to other nursery growers. Additional costs, a need to change some of the production processes, and a lack of understanding by the public of the importance of a good root structure are some of the challenges that he faced. A plan to overcome these problems was needed.
While attending Brigham Young University, Brant Walker (co-founder) conducted market research on root caused problems and found that most nursery professionals including garden centers, municipalities, landscape contractors, and landscape architects considered poor roots to be a major problem and would prefer to purchase trees that didn't have girdling or circling roots. In 2004 Brant wrote a business plan to grow trees using air-pruning technology. He entered this business plan (Superoots USA) into the BYU MBA Business Plan Competition where he won first place and a 50k grand prize. After winning the BYU Business Plan Competition, Fortune Magazine called and invited him to enter his business plan into the National MBA Business Plan Competition that they sponsor each year. Competing against the best business plans from Harvard, Stanford, Yale, and others, his business plan finished as a semi-finalist and was featured in Fortune Small Business.
With a solid business plan, seed money, and national exposure Brant and Ben combined their efforts and formed SuperTrees Incoporated in 2005. Today the company grows over 150 varieties of trees in air-pruning containers and ships them to wholesale customers throughout the United States. We also sell to retail customers in the Portland/Salem area and provide landscaping and arborist related services to municipalities and homeowners within 30 miles of Canby, Oregon. If you would like to learn more about our trees or the services we provide please contact us at 503-266-8733.
About SuperTrees™
SuperTrees are some of the strongest healthiest trees on the market today.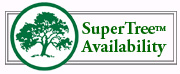 click here to see the trees available this year
Choose a link below to learn more.

---
QUALITIES OF A SUPERTREE™: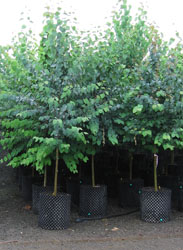 Central Leader: Trees should have a single, relatively straight central leader and tapered trunk, free of codominant stems and vigorous, upright branches that compete with the central leader.
Main Branches (scaffolds): Branches should be distributed radially around and vertically along the trunk, forming a generally symmetrical crown typical for the species. Branch diameter should be no greater than 2/3 (two thirds) the diameter of the trunk. The attachment of scaffold branches should be at wide angles and free of included bark.
Trunk diameter and taper: shall be sufficient so that the tree will remain vertical without the support of a nursery stake.
Roots: The trunk, root collar (root crown) and large roots should be free of circling, girdling, and/or kinked (J-roots) roots. The root collar should be within 1" (one inch) above or below the soil surface. The rootball periphery should be free of large circling and bottom–matted roots with roots radiating symmetrically from the center of the root ball.
---
HOW IT WORKS: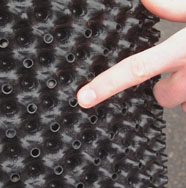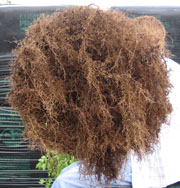 SuperTrees are grown in special containers that use air to keep the roots from circling. The shape of the container guides growing roots toward the hole. Since a root doesn't grow in air, it will stop growing once it reaches the hole. This is called "air-pruning". The air-pruning process develops healthy, fibrous, white-tipped roots. These healthy roots establish quickly and are most efficient at absorbing nutrients.
---
ROOTS OF A SUPERTREE™:
These superior roots are what make SuperTrees grow faster than trees grown in conventional containers. The pictures on the right show what the roots look like after all of the soil is washed out. As you can see, SuperTree roots are thick, fibrous and ready for transplant.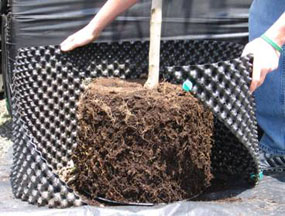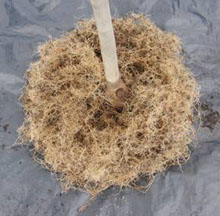 ---
POOR ROOTS:
PROBLEMS CAUSED BY COMMON POTS: (Avoid these problems by planting a SuperTree™)
Traditional plastic nursery containers cause the roots of growing trees to develop a circling pattern. As the tree grows these circling roots will maintain their circling pattern, choking the tree and creating poor conditions for it later on.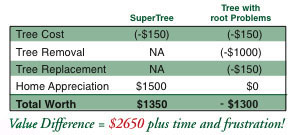 Circling roots create major problems:
Typical nursery pots cause root systems to circle permanently damaging the growth pattern of the roots and affecting the overall health of the tree.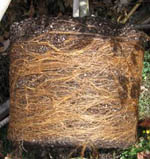 As the tree grows larger, it will eventually blow over, becoming a hazardous liability.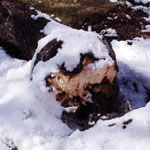 Trees with circling roots will not be as efficient at absorbing nutrients becoming highly susceptible to diseases.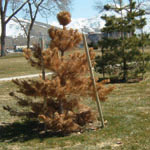 Circling root systems will continue to grow in a spiral eventually choking and killing the tree. Primary market research conducted at Brigham Young University indicates that 73% of nursery professionals think that circling roots are a problem.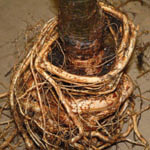 ---
SUPERTREES™ At the growing grounds: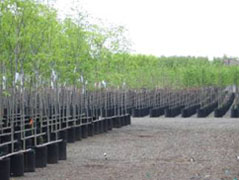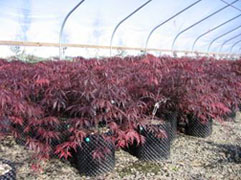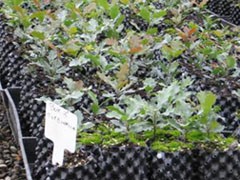 ---
OUR GUARANTEE
SuperTrees ship only the healthiest trees in the nursery. Root problems are difficult to detect and can easily be hidden by placing the tree in a larger container. It's important to know that your tree has been properly grown. As such we GUARANTEE that all SuperTrees are grown using air-pruning technology. We GUARANTEE that there are no root problems hidden in the soil.